Posted on
By Chickadee Kids Company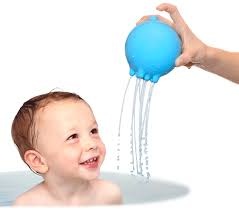 Do your kids scream and run when you tell them it's bath time? They could be vieweing bath time as a chore where the objective is simply to "get clean". Maybe it's even a chore for Mom & Dad to get them in and out of the tub. But turning bath time into play time can unveil many hidden benefits that are far more than just personal hygiene.
Bath time is a fantastic way to promote cognitive and emotional development in children, as well as providing structure, self-regulation, and skills of independence. Not only does bath time have great benefits on children's psychological and emotional development, it also is a perfect opportunity to incorporate play time!

Language development:
Play time is like a playground for the imagination. It's when children get the chance to explore,
discover, and enhance their interests and curiosities. With this, speech often comes too. During bath time, there are many opportunities to practice new language; learning and repeating words such as 'SPLASH', 'DRIP,' 'POUR', or 'RUB', and even practicing the names of bath time fun animals! Bath time is an often overlooked opportunity for language development. 

Cognitive development:
With all the senses being called upon, from the scent of the bubble bath to the sight of the bubbles that are formed, this time is significantly encouraging towards a child's brain, as it can require plenty of focus and attention.
On top of this, playtime can be incorporated to make bath time even more engaging for children. By incorporating bath toys, games, bath bombs and bubbles, the opportunities to learn and play during bath time truly are endless. 

Emotional development:
A child's emotional development can be encouraged during playtime as it can teach and
improve a child's ability to express how they are feeling, as well as their understanding
regarding why they feel this way. Asking questions while playing games is a great way to do
this! 'How does the water feel?' 'Which toy would you like today?' 'Which type of soap should
we try?'
While these are simple questions that might not seem to be important, asking these type of questions during bath time or any type of play can help your child learn how to express their feelings, thoughts and needs at other more critical times. 

Additional development:
Bath time may just simply be part of a child's "before bed" routine; using bath time as play time can allow bath time to be included in your child's schedule at any time! Think of bath time as "water play" that can happen in the morning, afternoon or evening. And just like play time, bath time can allow for that release of energy, engagement of the imagination and the senses and promote creativity. 
So how can we make bath time more fun?  
● Schedule bath time during a time of alertness, and even messiness, such as after a meal or
a nap! This can allow playtime to be a desire of the child and can allow the bather to get
both jobs done together.
● Introducing bath toys. Try incorporating toys that promote the exploration of the
properties of water, temperature, colours, etc.! We have tons of bath toys for children of all ages - from infants to toddlers and even big kids!
● Playing music. Set a playful tone by creating a more uplifting and exciting ambiance through music. Try putting on some of their favourite songs, or something simple and upbeat!
● Don't be afraid to get wet! Get involved with play time too by splashing around, pushing
some toys, or making a bubble beard!
Check out our bath toys to make play time and bath time partners at last!