If you've followed any wooden toy accounts on social media, no doubt you've seen the classic rainbow coloured toys Grimm's and Grapat. These beautiful, heirloom-quality toys brighten up any playroom. But you may have asked yourself: these are really pretty, but how do you play with them?
My fascination with Grimm's wooden toys started with the Large Wooden Rainbow. I kept seeing these beautiful rainbows adorning playrooms on pinterest and thought it made for good decor. In researching the Grimm's wooden rainbow, I came to realize this wasn't just a beautiful piece of play room decor, this was a powerful tool for open-ended play. The stacking rainbow can become a tunnel, a ball run, a mountain for animals to climb, a cradle for dolls, so many things. 
This is the magic of Grimm's wooden toys. They are open-ended, meaning they can become literally anything a child wants them to be. Inspired by the Waldorf philosophy of education, Grimm's mission is to foster creativity and imagination in play. 
While the wooden rainbow has become a symbol of Grimm's and is what this German company is best known for, this wooden toys line has so much more to offer.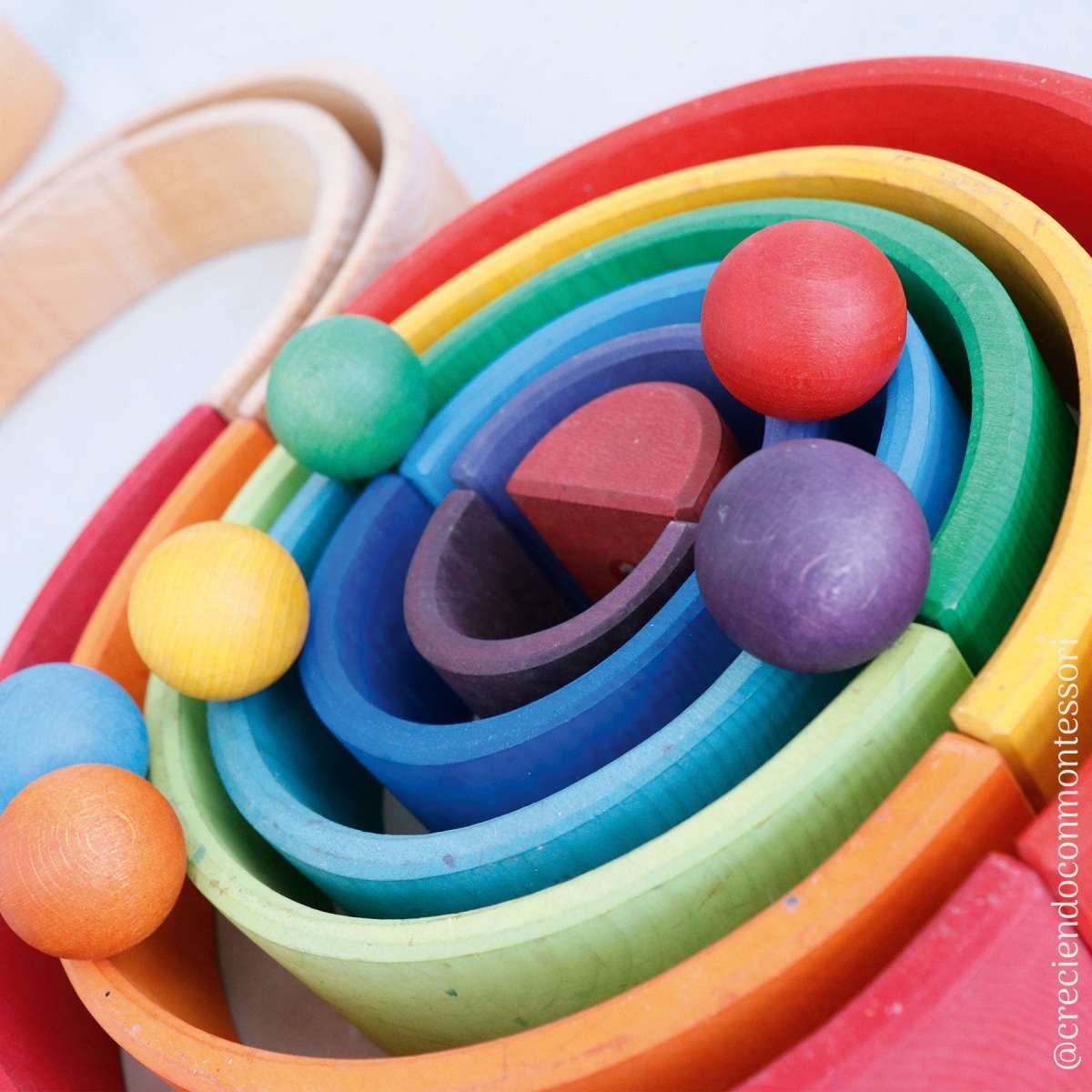 Grapat Toys are a great complement to Grimm's wooden toys. Made in Spain, Grapat specializes in individual loose part toys. The word grapat means "handful" in Catalan, which is pretty symbolic of what these wooden toys are. Like Grimm's, Grapat is a family business made with natural and non-toxic materials. While they do make some pieces that are great for toddlers (such as their Wood Coloured Bowls and Balls), their mandala pieces are definitely choking hazards and for kids over the age of 3. For children under 3, the rings, coins and nins are a great option.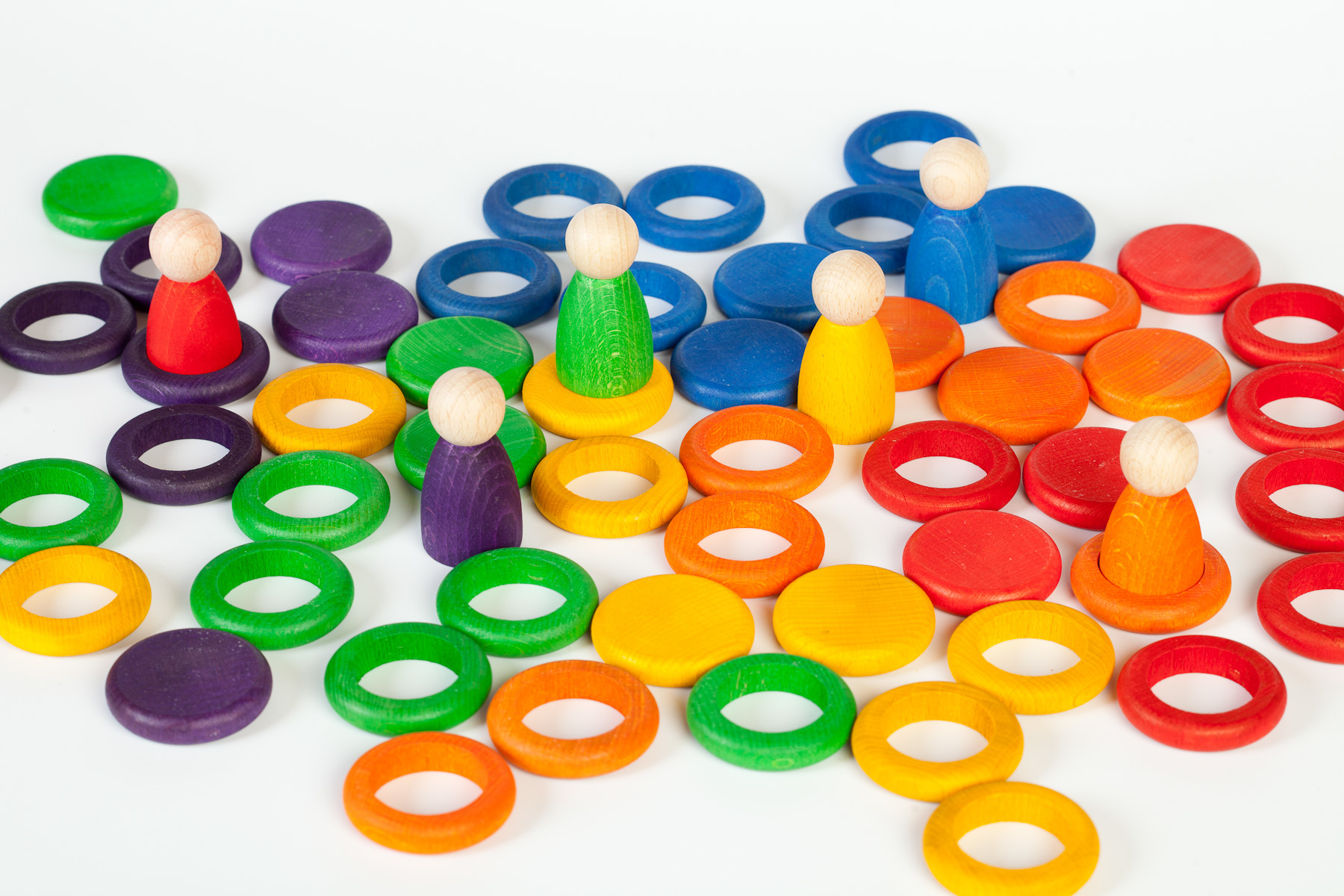 Mandalas are great for sorting, pattern play and can be great for working on early math skills such as counting as well as used in small world play. Adults have fun playing with them to creating incredible intricate designs (check these out on pinterest or instagram, seriously they are mind-blowing).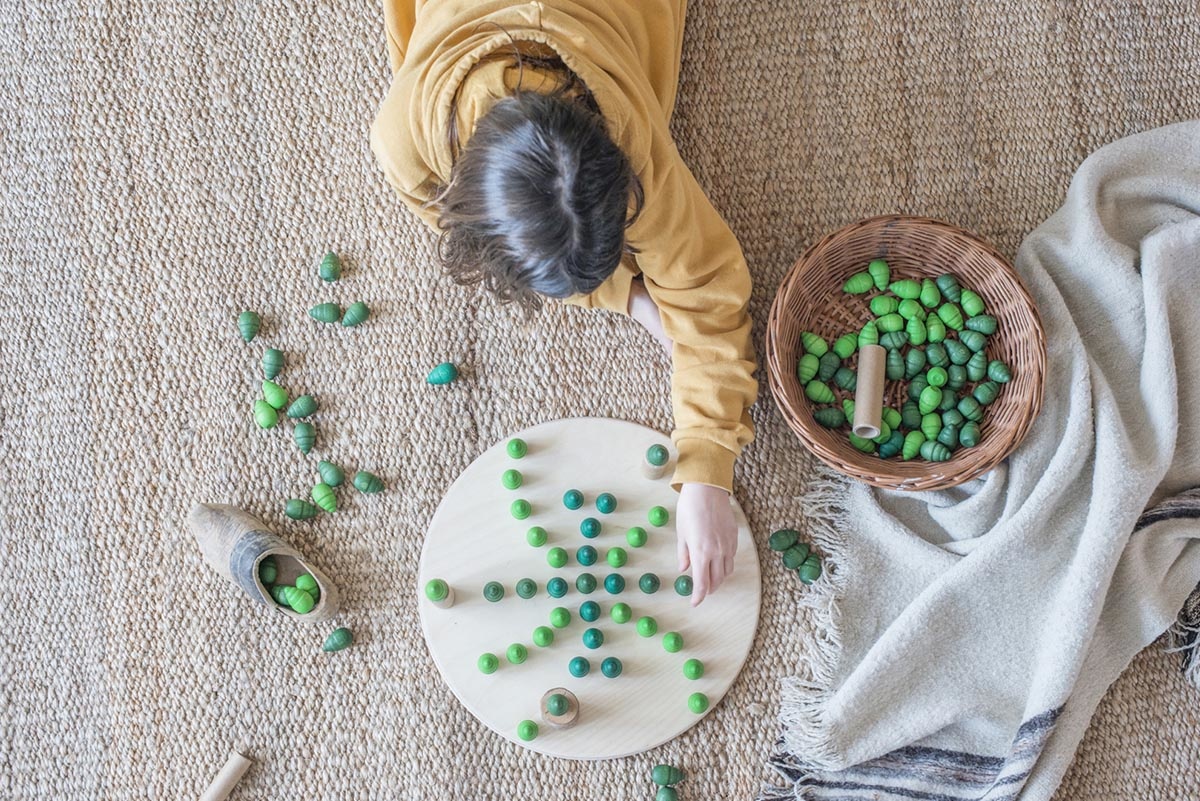 Here are a few things we love about Grimm's and Grapat wooden toys: 
1 - These toys are built to last. They are heirloom quality, meaning they are meant to be passed on to siblings, cousins and future generations. Yes, this also means they are an investment.
2 - These are toys that will grow with your kids. Because there are endless ways to play with these toys, kids will play with them differently depending on their age. While toddlers will mostly stack and sort, colour match and thread, older kids will engage in more imaginative play, creating and building small worlds. (Reminder that small parts such as Grapat Mandalas are choking hazards and should not be provided to children under age 3). 
3 - These toys are sustainable. Both Grimm's and Grapat are family businesses with high standards for safety. While there are many knock-offs and look-alike toys, when you purchase one of these brands you know that they were produced in an ethical way with sustainable materials and coloured with non-toxic dyes. 
Both Grimm's and Grapat wooden toys were designed with open-ended play in mind. While there are some sets that are more closed-ended (such as the Grimm's 7 Rainbow Friends in 7 Bowls that can be used for colour matching, for example), the goal is to provide an invitation for creative play.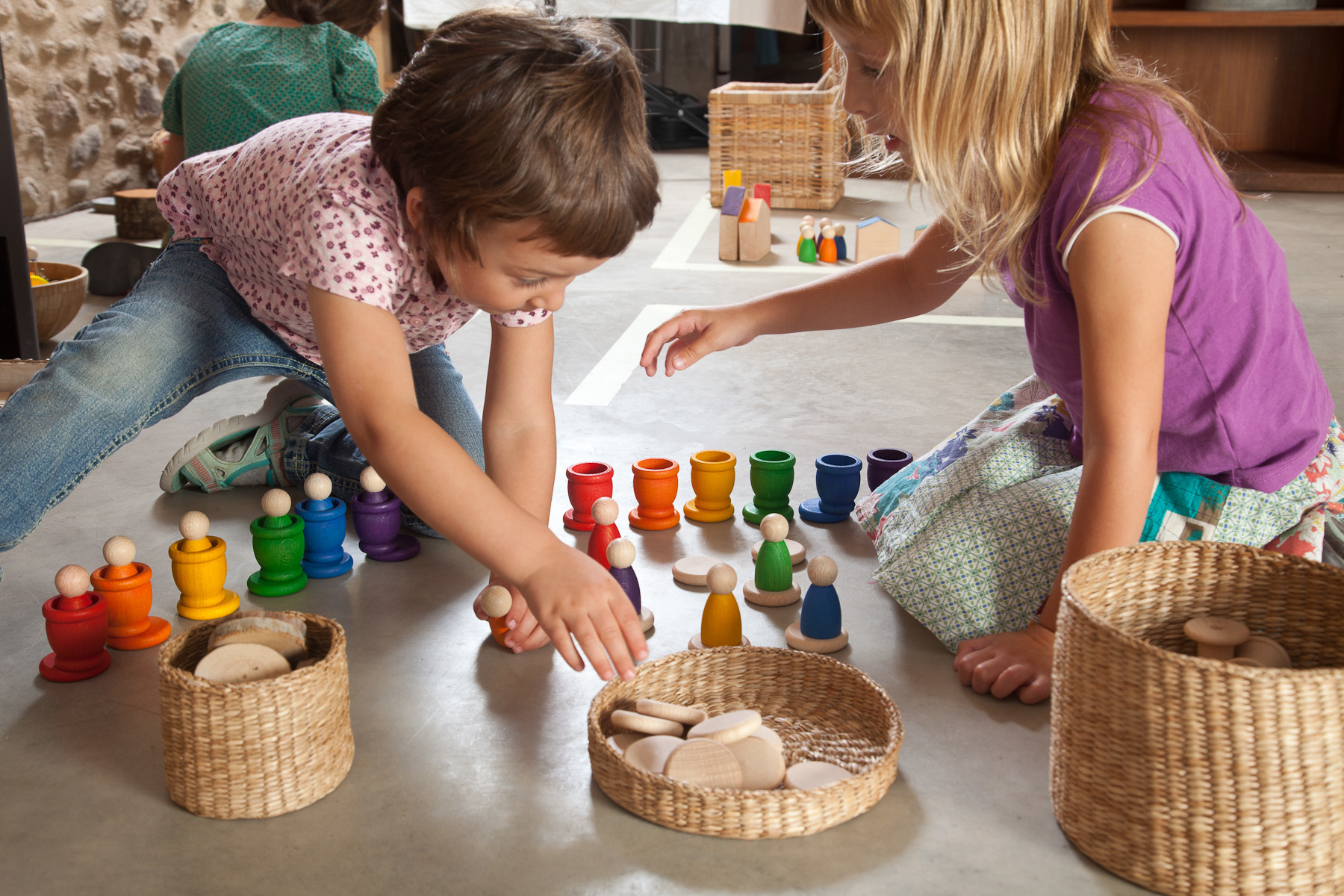 If your child hasn't had much experience with open-ended play, don't be surprised if it takes them some time to delve into these toys. They, like you, may not know what is expected of them if all they are used to are closed-ended toys. We suggest presenting the toys with little expectations at all. Simply allow them to explore the toy, without making any suggestions at first. You can then seek out some inspiration on pinterest or instagram to get them started with some crafty invitations to play. Once they have a little more experience with these toys, they will begin to create their own play, and invite you to join! Parents often say they have just as much (or more) fun with these toys as the kids.