Oh, the magic of Christmas. When your kids get to rip open the gifts you so carefully wrapped and you stand ready with your camera in hand to capture their reaction. Toys are fun, yes, no doubt. But, did you know, toys are also useful for so many aspects of childhood development? So much skill building and learning happens through play.
That may be why the famous Maria Montessori said "Play is the work of the child". We have carefully curated a list of our top toys for babies. These toys are not only fun, but they are appropriate for baby's development. Babies are like little sponges, soaking up the world around them through their senses. Many of the toys in our "Best Toys for Babies list" are sensory based toys. They crinkle, they jingle, they spin and they will have you and your baby in awe. 
Ok, that's enough chatter. Show me the gifts!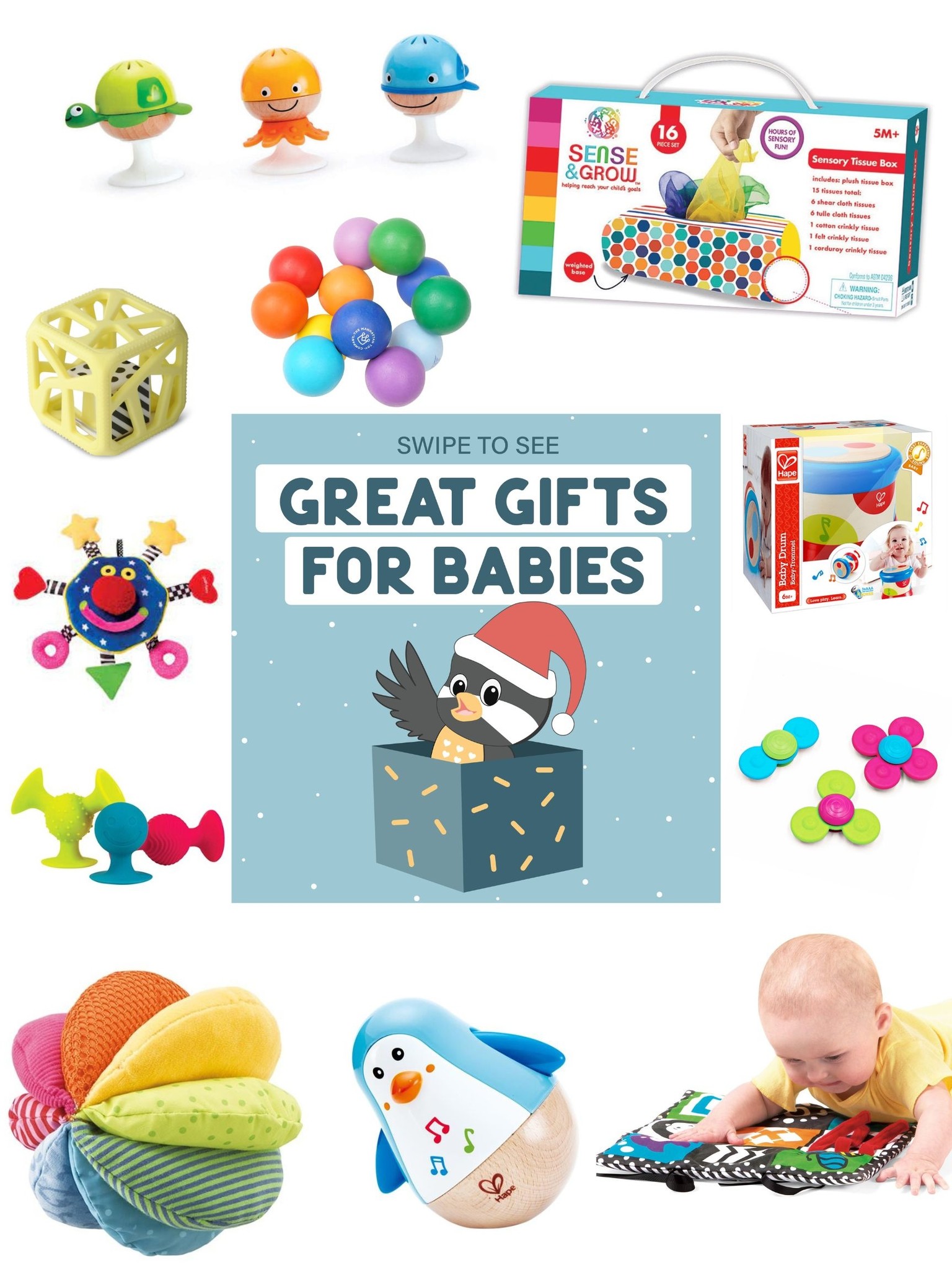 Attach to baby's highchair or suction to the floor, play time is anywhere with these fun rattles offering different sounds when touched. 
Does your baby love emptying your tissue box? Give them their own featuring coloured scarves and even a few crinkle papers. This a great toy for sensory play, learning about colours, and working on fine motor skills. And the best part is this tissue box will grow with your child. We love using the scarves to play peek-a-boo!
Manhattan Toy Classic Baby Beads 
These wooden beads are strung together with an elastic cord and can be manipulated by baby's hands, keeping baby stimulated. 
One of our favourite teethers, the chew cube has ribbed edges plus geometric shapes that make it easy for baby's hands to grab and a high contrast rattle inside. A teether and toy in one! 
Manhattan Toy Whoozit
Voted baby's favourite toy for many years, this plush funny looking character engages baby in sensory play, has a black and white high contrast back, and can be used as a stroller toy or on the floor. Trust us when we say baby will love the whoozit. 
These suction cup toys have long been a favourite of older kids. These bigger sized ones are perfect for baby to grab onto. Suction to the tray table, the window, the wall, or the floor and even the bath tub. 
The perfect ball for baby! Every fabric section offers a different texture, sound and visual stimuli for baby. It crinkles, rattles, rustles, squeaks and more. 
One of our most recommended baby toys, babies will love the little jingle this penguin makes when it wobbles back and forth on its base. This makes a great toy for tummy time and early crawlers as baby tries to reach for it. 
Introduce baby to the sound of music with this easy to use baby drum. 
These fun little suction cup spinners can be placed on nearly any surface - a tray table, bath tub, window, etc. and whoosh ... baby will be mesmorized by their spin! 
Wimmer-Ferguson 3-in-1 Triangle 
This 3-in-1 triangle toy can be laid flat for tummy time play, hangs from other surfaces with tie strings or folds up into triangle shape. It has simple black and white high contrast graphics on one side and more complex color graphics on the reverse side. Includes flaps, textures, crinkle paper, a mirror, and teethers offering baby many play opportunities.